Paediatric Dentistry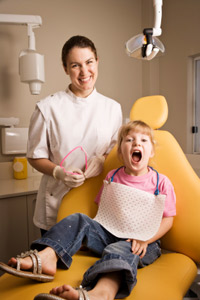 A paediatric dentist is a board-registered specialist dentist who is dedicated to the oral health of children from infancy through to their teenage years, as well as those with special needs. There are many areas of prevention and care that are unique to children which a paediatric dentist is specifically trained to identify, treat and prevent.
Paediatric Restorative Dentistry
Finding our your child requires their first filling is often a very stressful time for parents as it conjures up feelings of apprehension and anxiety, perhaps remembering what it was like when they were a child. We are very aware of this and will make the experience as pleasant as it possibly can be.Your child can even watch a DVD movie of their choice through our digital movie eye glasses!
When a child requires a restoration (filling) a number of choices are available, some similar to those used in adult dentistry, such as tooth coloured (white) fillings, amalgam, and crowns or caps. Primary and young or immature permanent teeth are filled similar to adult teeth but with a few exceptions which Dr Fracaro will be happy to discuss with you.
Other Services Include: